BELLHOUSINGS FOR GEAR PUMPS
The LS – LSE – L – LE series monobloc bell housings for gear pumps are used as connecting elements between Unel-Mec form B3 – B5 – B14 electric motor and rectangular flange gear pumps.

Available with and without joint extraction ring.

Made of die-cast aluminum, they can be used for external mounting or immersed in oil.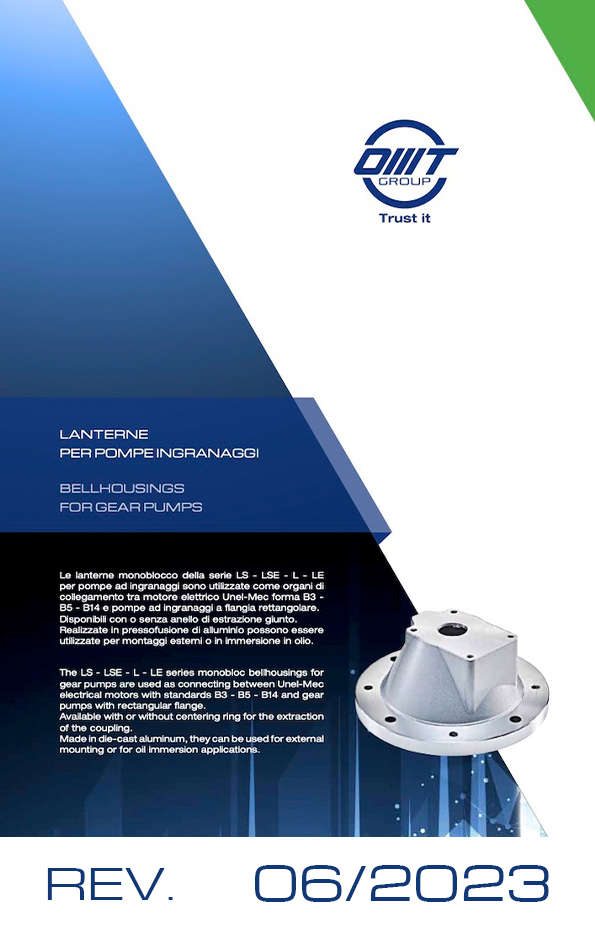 Click on the image to download the catalogue
  Related Products
Components
Federica Paciolla
2022-05-12T11:28:28+02:00
Bellhousings and elastic Couplings in aluminum alloy, monobloc and modular. Joints in aluminum, steel and cast iron.
Accessories
Federica Paciolla
2022-05-11T17:05:42+02:00
Pump supports in aluminum alloy (SP series), shaft in special steel; flanged on the pump (series 1-2-3-3,5), coupling through splined halfcouplings.
Federica Paciolla
2022-05-11T17:15:31+02:00
Plastic oil fillers breathers with nylon extractable basket; screw closing (TP series).
Federica Paciolla
2023-01-02T11:46:41+01:00
Visual level gauges (LT series), only one nylon piece, with or without nylon protection.
Federica Paciolla
2022-05-11T17:22:10+02:00
Gauge isolators are needed to prevent that damaging pressure peak could reach the gauge.
Federica Paciolla
2022-05-11T17:26:08+02:00
Oiltank fixing flanges for inlet or outlet tubes. View the data sheet and download the product catalog